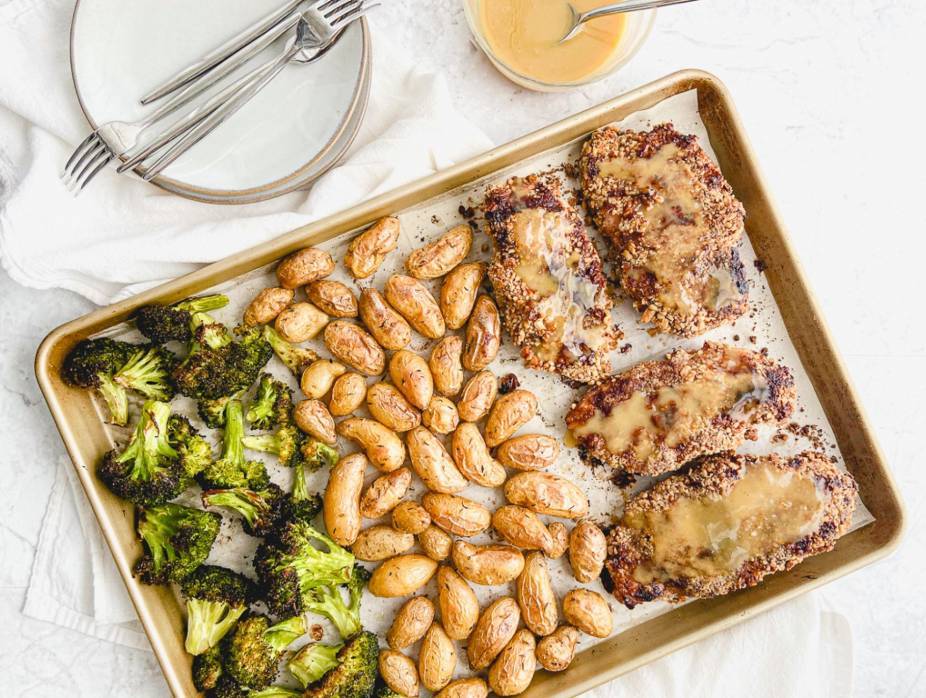 Sheet Pan Walnut Chicken
Recipe By

Ally Mawhirter


A quick honey mustard vinaigrette is a delicious addition to this crispy walnut-crusted chicken, and acts as both a sauce and a marinade to flavor the chicken from the inside out. Don't like walnuts? Almonds or pecans would also be delicious here.
SERVES: 4
4 tablespoons

Honey Mustard

1 tablespoon Apple Cider Vinegar

3/4 cup plus 1/4 cup flour, divided

1 and 1/2 cups walnuts, very finely chopped

4 boneless skinless chicken breasts

1 pound baby potatoes, halved if large
Preheat oven to 425 degrees Fahrenheit. Prepare a sheet pan with Gefen Parchment Paper or nonstick spray.
In a small bowl, whisk together mustard, honey, olive oil and vinegar and set aside. Set up three plates or pans for dredging the chicken:
• First Pan- Add 3/4 cup flour with salt and pepper to taste and any additional spices you like. Mix well and set aside.
• Second Pan- Beat the eggs with one tablespoon of the honey mustard dressing you just made.
• Third Pan- Mix remaining 1/4 cup flour, chopped walnuts, salt and pepper to taste and any additional spices you like. Mix until well combined.
Dredge one piece of chicken through the flour mixture, then egg mixture, then walnut mixture, pressing firmly to make sure the chicken is coated evenly. Line up on one side of the sheet pan and repeat with remaining chicken. Drizzle chicken with a little olive oil.
Toss potatoes and broccoli florets with a drizzle of olive oil, salt and pepper to taste, and any additional spices you like. Spread in an even layer on the sheet pan next to the chicken.
Roast for 20 minutes. Flip chicken and vegetables and roast for another 20 minutes, or until golden brown and cooked through.
Drizzle chicken with honey mustard sauce and enjoy!